For the past seven years Black leaders of UNCA have advocated for inclusion, peace, change, and equity.
Their shared conviction is that representation is important, and our presence matters; they also share the vision that Africana will become a major one day.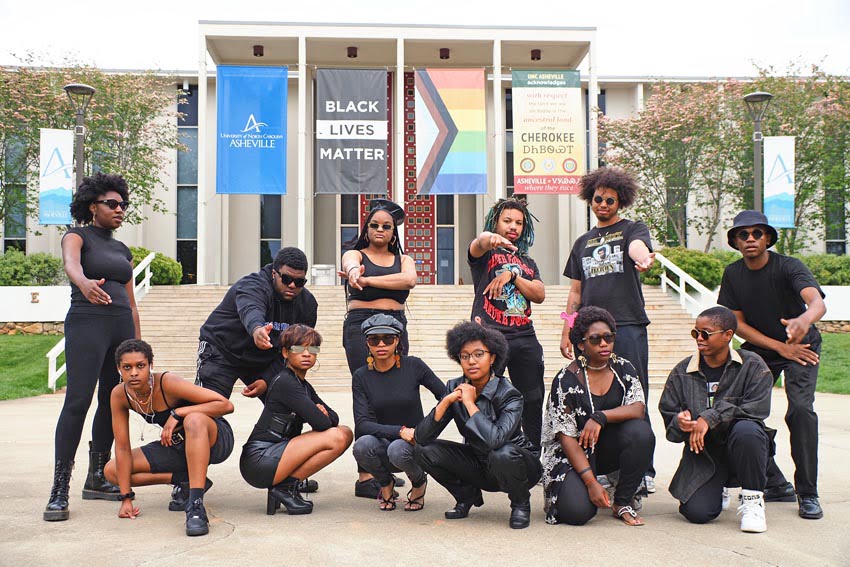 In the words of Demon Thomas, "Black Asheville as a whole needs to be cherished and valued, from Black Asheville's ancestors' contribution in education, community development, and entertainment. We are the leaders of this generation, and we must set an example."
One example they have set is the recent, and first, UNC-system-wide Black Indigenous People of Color (BIPOC) art show, "This is Us." The show was created by scholars from the Africana department and included Black and Brown students from UNC Asheville, UNC Greensboro, UNC Pembroke, NCA&T, and NC Central University.
Organizations Unite for Progress
In the fall of 2021, club leaders from a number of organizations invested themselves in BIPOC Advocacy. The week-long event highlighted the importance and excellence of each culture, from Black and Brown to Pacific Islanders, Hispanic and Latinx peoples. Participating organizations were the Student Government Association (SGA), Black Students Association (BSA), UMOJA (Brother of Unity), ASIA (Asian Students in Asheville), Prospanica, and SANKOFA.
For the past six years, UNCA SGA has been led by Black presidents, including Lauren Braswell, the current, 54th session president. Along with other student and faculty leaders, she and her predecessor, Demon Thomas, are using their political platform for active change at UNCA.
Sankofa" is an Akan term that means "to return, to go back and get it, to seek." It is the idea that in our past we find the power and strength to create a brighter future.
At UNC Asheville, the Sankofa Living Learning Community (LLC) is a residential community for first-year students of color and others interested in racial justice, cross-cultural collaboration, and intercultural exchange. "Students of color" includes, but is not limited to, those who identify as Black, Indigenous or Native American, Latinx or Chicanx, Asian, as well as the variety of ethnicities and cultures within those groups.
Dr. Jeremias Zunguze is a founder of the Sankofa LLC. An alumnus of UC Berkeley, he created the UNCA Sankofa LLC in 2018 for students of color to be in community with one another—to live, take classes together, and build relationships outside the UNCA community.
Photos by Renato Rotolo/Urban News
UNCA Scholars Emulate Their Professors
Sankofa Club President Sara Valdez said, "Africana and Black organizations are the sole reason I am here at UNCA. I have never been so welcomed and embraced by so many creative, intelligent people. I have received priceless lessons from the professors of the Africana department and my fellow student leaders and peers. This community has instilled hope and courage in me, and I am so grateful to everyone who's been with me this year."
Sankofa Resident Assistant Aliah Bell also recognizes the importance of that dedication and work, both the philosophical underpinnings of empowerment and late-night talks and hangouts. "Thank you, Miracle Okoro, Dejah Gallagher, Demon Thomas, and Lauren Braswell for making my second semester better! Y'all got me out more this semester and helped me get in the swing of things."
UNCA UMOJA member Elijah Jefferson said, "Black organizations and Africana made my experience at UNCA so much better. Africana provided a sense of home and community that I need at this PWI and really has taught me very important lessons of how to conduct myself as a Black male in America. Without it, people, especially Black people, will feel isolated from their community."
Africana Studies Brings Groups and Students Together
Dr. Tiece Ruffin, a Fulbright Scholar, chairs UNC Asheville's Africana Studies program and was recently elected to a two-year term on the Board of Directors for the Public School Forum of North Carolina. Among the most highly respected UNCA educators, her passion and advocacy for education provide opportunities for Black students at UNCA to connect with Black youth. Dr. Ruffin offers an Africana course that allows students at UNCA to learn about the American education system and the importance of investing in Black and Brown children. Students from her department often find themselves continuing to serve Black Asheville through partnerships and volunteering even after the course is over.
Africana studies student Katana King said, "Black organizations have provided me a safe space where I can go through the evolution into audulthood while being proud of my skin and culture. Without them, I do not think I would have gained the social and academic confidence I have and pursued my goals with anywhere near the amount of support I got from my black peers."
Dr. Agya Boakye-Boaten
Dr. Boakye-Boaten is the father of Africana studies. He advised (and named) the newly formed organization UMOJA, and (before Covid) led a memorable study-abroad trip to Ghana. Every good teacher brings out the best in their students, allowing them to express themselves by investing himself in their goals and dreams—as he does with Africana scholars, no matter their race, culture, or gender. And while Dr. Boakye-Boaten is now the Dean of Social Sciences, leaving him less time in the classroom, students still go to him for guidance and comfort.
From the Black Lives Matter mural to Sankofa talent shows, the Black experience is evaluating and creating foundation. For, in the view and words of those who help create it and are a dedicated, essential part of it, "Africana is more than a department. It is a lifestyle!"
Demon Thomas, who lives in Charlotte, NC, is an entertainer who majored in Mass Communications & Sociology and minored in Africana Studies at UNC Asheville.