Founded in 1959, A-B Tech began offering programs in the 1959-60 academic year from two offices in Asheville City Hall.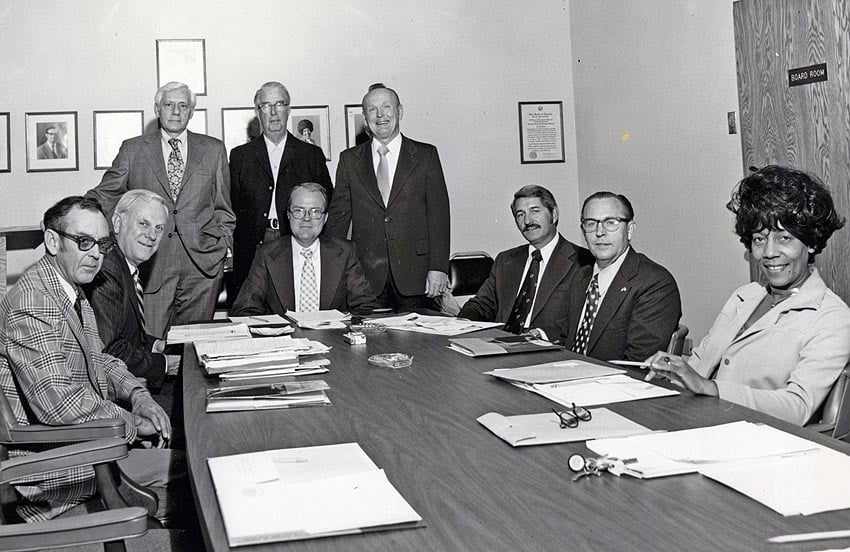 Sixty years later, the College has expanded to five locations and 32 buildings in Buncombe and Madison counties.
President Emeritus Harvey Haynes, who was appointed after the death of A-B Tech's first president Thomas Simpson, served from 1975 until 1990. He was hired in 1961 as a counselor/coordinator and assigned to recruit students from high schools in a 14-county region. A-B Tech was then known as the Asheville-Buncombe Industrial Education Center and was part of Asheville City Schools.
"The students would be bused here and then returned to their main campuses after half a day," Haynes said. "We were running a lot of adult education, including electronics in an old building behind Lee Edwards High School. We inherited a practical nursing program from St. Genevieve's and that is the oldest curriculum at A-B Tech."
By April 1961, A-B Tech was located in two buildings—named A and B—on Victoria Road. Haynes moved from City Hall with Simpson, who was then a director, and his secretary Jane Smith. "The manager of the school system sent us a janitor and a lawn mower and we didn't have a single blade of grass," Haynes said. "During that period from April to September, we had to do all the staffing and get the equipment. The days were long and it was not unusual to work 12-15 hours a day and half a day on Saturday, but I never once heard one person complain about the long hours."
Haynes said the most significant change he witnessed while at A-B Tech took place on July 1, 1963, when the College was converted from an Industrial Education Center to a Technical Institute. Overnight, the College was moved from Asheville City Schools and given its own nine-member board of trustees. "That was the big day and everything changed. Overnight, Tom Simpson's title changed from Director to President."
Haynes said one of his proudest moments was standing on stage in the auditorium of Stephens-Lee High School (Asheville's African American secondary school) in April 1961, when he invited its entire student body to be a part of the Industrial Education Center. "This College never, ever operated one single day in its history as a segregated institution," he said.
A-B Tech is now the largest higher education institution in Western North Carolina, serving more than 23,000 students a year in Buncombe and Madison counties. One of 58 community colleges in the NC Community College System, A-B Tech offers more than 120 degrees, diplomas and certificates, as well as a wide range of workforce training and continuing education programs.
A-B Tech's 60th Anniversary and Costume Contest
If you are a current or former student or employee, or a friend of A-B Tech, we invite you to help us celebrate! Drop by the A-B Tech/Mission Health Conference Center on Thursday, January 16, 2020 from 11 a.m. to 2 p.m. There will be food, fun, a costume contest (come dressed in the garb of your favorite decade 1959-2019), a photo booth, and some surprises! You'll also be able to wish President Dennis King a happy retirement as he prepares to leave us at the end of January. This event is free and all are welcome to attend.
Do you have a connection to A-B Tech? We want to hear from you! Send your story on how A-B Tech is a part of your life to info@abtech.edu.