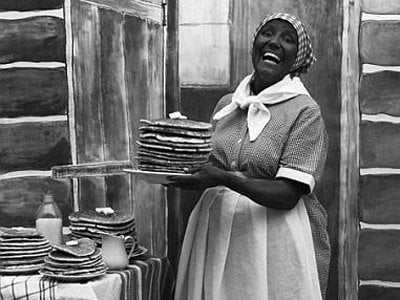 One of the longest running logos and trademarks in the history of American advertising will be removed from products.
Amid the current efforts to remove Confederate monuments from state and federal grounds, it is also important to remember that a host of products lining grocery store shelves, including Aunt Jemima Pancake Mix and Aunt Jemima Syrup, are also very much linked to Southern racism.
The Aunt Jemima logo was an outgrowth of Old South plantation nostalgia and romance grounded in an idea about the "mammy," a devoted and submissive servant who eagerly nurtured the children of her white master and mistress.
The Aunt Jemima logo was created in 1889 by Chris L. Rutt and Charles G. Underwood for their ready-made pancake flour mix at the Pearl Milling Company. The logo's inspiration came from Billy Kersand's minstrel song "Old Aunt Jemima." The logo was established as a trademark by the Quaker Oats Company in 1925.
Quaker Oats Company bought the brand in 1926 and made Aunt Jemima its registered trademark in 1937. The image helped make the product a popular and trusted brand.
Aunt Jemima was based on a caricature that Nancy Green, a black woman, was hired to portray.
Green was born a slave in Montgomery County, Kentucky, on March 4, 1834. She was an excellent cook and after the Civil War, when she obtained "freedom," she moved to the land of Lincoln, settling in Chicago. In 1893, her "freedom" included a lifelong contract with the R.T. Davis milling company as she became the first model for the corporation's trademark.
Green performed as Aunt Jemima at Chicago's Columbian Exposition. She was so popular her image was linked to the just-add-water pancake mix and "led to a host of other appearances at expositions in support of the product," as noted by the Kentucky African American Encyclopedia.
But, Green was more than an exploited racist image on a company's packaging. She helped organize the Olivet Baptist Church in Chicago, and she became an advocate for the poor and disenfranchised. Her life was brought to an end on September 1, 1923. While standing on a sidewalk, two cars crashed and one of them flipped, killing Green in the process.
No one portrayed Aunt Jemima for ten years following her death. Then in 1933, the Quaker Oats Company, which had acquired the company in 1926, hired Anna Robinson to play Aunt Jemima at the Chicago World's Fair.
In 2014, heirs of one of the women who portrayed Aunt Jemima filed a class-action lawsuit against the manufacturer and its parent company PepsiCo Inc. for $2 billion and a share of future sales revenue. In true historical fashion the company denied any wrongdoing, saying that the lawsuit had no merit and that no contracts between Aunt Jemima models and their company exist.
Now, in 2020, after years of criticism that the Aunt Jemima label is a caricature of black women and promotes racist stereotypes, Quaker Oats is finally taking action by retiring the Aunt Jemima brand.
Pepsico, the parent company of Quaker Oats, announced Friday that the 131-year-old breakfast brand will get new branding and new packaging before the end of 2020. The company also committed to spend $5 million over the next five years "to create meaningful, ongoing support and engagement in the Black community."
The owner of Uncle Ben's rice is also saying its brand will "evolve" in response to concerns about racial stereotyping. Caroline Sherman, a spokeswoman for Mars Incorporated, which owns Uncle Ben's, says the company is listening to the voices of consumers, especially in the black community, and recognizes that now is the right time to evolve the brand, including its visual identity.
Earlier this year, Land O'Lakes announced that it would no longer use the Native American woman who had graced its packages of butter, cheese, and other products since the late 1920s.