Daniel White (The Blackalachian) and Frank and Audrey Peterman speak about outdoor recreation, public lands at special community event.
On Saturday, April 6, 2019, the Southern Appalachian Highlands Conservancy (SAHC), in cooperation with the Asheville Parks and Recreation program "Pathways to Parks and City," will host "It's Your Backyard: On the Doorstep of Paradise" at the Dr. Wesley Grant, Sr. Southside Center from 11 a.m. to 5 p.m. The event features national parks and outdoor recreation ambassadors Audrey and Frank Peterman and Daniel White, highlighting their own outdoor recreation adventures, possible career paths in conservation, and the importance of encouraging everyone to enjoy public lands and parks.
White (online @The Blackalachian) grew up in the Shiloh community of Asheville and currently resides in Charlotte. He through-hiked the Appalachian Trail in 2017 and biked the 2,000-mile route of the Underground Railroad in 2018. He will kick off the event with a special presentation at 11 a.m.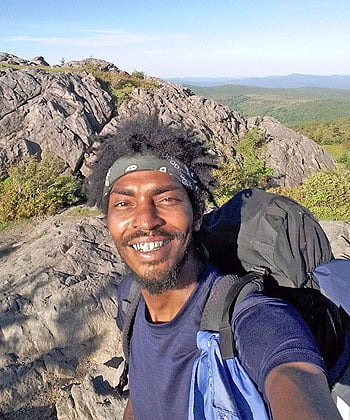 "I think black history and the physical endeavors of outdoor recreation go hand in hand," says White. "Being part of the Underground Railroad required a lot of physical stamina, and in doing my ride I learned about other stories, like the 1896 mountain bike ride of the 25th Infantry U.S. Army Bicycle Corps and the contributions of York on the Lewis and Clark expedition. The truth is black people have been out there for a while, and it's time to start recognizing and uplifting those stories.
"I enjoy bringing light and shedding light on this history from my bike trip—being able to preserve this history and share these stories," he adds. "It's a way for me to be entertaining and slip in a jewel of knowledge here and there. It's important to show kids that you can get out here to do something and have a fulfilling life and help the environment at the same time. It's a way to have a better quality of life."
The Petermans are tenacious advocates for breaking the color barrier and integration of our natural treasures as a way for all Americans, including children, youth, adults and seniors regardless of ethnic heritage to better appreciate our collective history and achieve a truly democratic society.
Audrey is the author of Legacy on the Land that describes their adventures from the east to the west coast in the national parks (www.legacyontheland.com). Frank was the Southeast Regional Director of the Wilderness Society from 2003-2010.
A complimentary lunch, catered by Southside Kitchen Catering of Green Opportunities, will follow Daniel White's presentation, along with a discussion about careers in conservation led by Frank Peterman and Elsea Brown, Director of Blue Ridge Forever in Western North Carolina. The Petermans' presentation "On the Doorstep of Paradise" will follow.
"I am so excited about this event because it represents the fulfillment of one of our highest dreams," says Audrey. "When the passion of people on the ground such as Daniel and the leaders of Pathways to Parks become allies with traditional conservation organizations such as SAHC which can bring resources to the table, then we have the recipe for greatness that may not be achieved otherwise. Look how many more people will learn about and become involved with the enjoyment and protection of our natural treasures as a result of these events."
The afternoon will also feature a performance by Santos Soul and the Soulution Band, performers from Word on the Street, and family-friendly outdoor activities. This event is free and open to the public; SAHC requests that those interested in the Saturday events RSVP to Angela Shepherd at sahc@appalachian.org or (828) 253-0095, ext. 200, to have an accurate count of attendees.
On Sunday, April 7, 2019 the Petermans will host "Experience Your Backyard," an outdoor experience on public lands, and Daniel White will lead a road bike ride.
About Southern Appalachian Highlands Conservancy:
The Southern Appalachian Highlands Conservancy is a non-profit land trust headquartered at 372 Merrimon Avenue in Asheville, NC. Since 1974, SAHC has protected over 75,000 acres of unique plant and animal habitat, clean water, farmland, scenic views, and places for people to enjoy outdoor recreation of the mountains of Tennessee and North Carolina.
This project was supported by the Conservation Trust for North Carolina, and is made possible with funding from the Z. Smith Reynolds Foundation. CTNC, in partnership with local land trusts, seek to build deeper connections with communities to ensure all North Carolinians enjoy the benefits provided by land and water conservation.
More information is available at Appalachian.org.