A Look at Entertainment
by T.J. Moore –
Rapper Kanye West announced his candidacy for president on July 4th, setting off an array of opinions and skepticism. Among those who are vehemently against the campaign are Jamie Foxx and All the Smoke hosts Matt Barnes and Stephen Jackson.
On Instagram, Jackson condemned Kanye's bid by re-posting a tweet from DJ Hed. In the tweet, Hed warns Americans about their infatuation with fame and celebrity.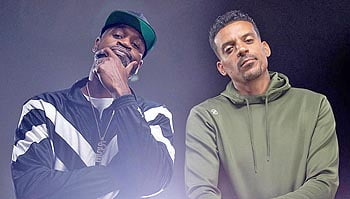 "No more voting for celebrities who've never held public office," the tweet reads. "If you wouldn't hire a plumber to work on the electrical wiring in your house, why would you vote this way? America's obsession with fame/celebrity is the endgame."
Barnes took his criticism and condemnation further in a now-deleted Instagram post.
"This is a dangerous game he's playing," Barnes wrote. "If this is serious, he will definitely divide the minority vote. Just remember comments like "slavery was a choice and how 'buddy-buddy' he is with Trump! Much respect for the artist and his impact on fashion but this is a HUGE F*** NO For PRESIDENT!"
Blackish star Anthony Anderson was bold enough to equate a global scourge with a box-office champion comic in his July 7 Jimmy Kimmel Live monologue. During his second night as guest host, Anderson blasted some people's complacency about the resurgence of COVID-19. He lamented the sub-par summer vacation season and mentioned the old slasher flick, I know What You Did Last Summer, suggesting a remake for these unprecedented times.
"He doesn't use a hook to kill people. He kills people by sneezing on them at Costco," Anderson joked. "Here's what you need to know about the Coronavirus: It's tiny and it's everywhere. It's the Kevin Hart of diseases."
A Martinez, California couple were charged with a hate crime recently after they were videotaped covering a Black Lives Matter street mural with black paint over the July 4 holiday, according to CNN.
The incident occurred immediately after the mural was completed, painted on the street in front of the Martinez courthouse. The mural has since been restored.
David Nelson and Nicole Anderson face three misdemeanor counts, including violation of civil rights, vandalism, and possession of tools to commit vandalism or graffiti, according to the Contra Costa County District Attorney's office. If found guilty, they could face up to a year in county jail.
"We must address the root and byproduct of systemic racism in our country. The Black Lives Matter movement is an important civil rights cause that deserves all of our attention," District Attorney Diana Becton said in a statement.
"The mural completed last weekend was a peaceful and powerful way to communicate the importance of Black lives in Contra Costa County and the country," she continued. "We must continue to elevate discussions and actually listen to one another in an effort to heal our community and country."
Nelson and Anderson are expected to appear in court, but a date has not been set.
A raging mask debate during an incident at a Florida Costco was captured on video on June 27 and went viral recently with almost 10 million views. The incident cost a man his job.
A man wearing a red T-shirt that said, "Running the world since 1776," dark shorts, and flip-flops was seen yelling "I feel threatened!" and "Back the (expletive) up and put your (expletive) phone down!" He glared at the camera after a woman had asked him to comply with Costco's mask policy."
Documentary filmmaker and Miami native Billy Corben had obtained the video from the man who filmed it, and tweeted it to his 82k followers, where he shares outlandish stories and videos under the #BecauseFlorida hashtag.
Within a day, the man yelling in the video was identified by Ted Todd insurance as Daniel Maples. By midday, Maples's bio had been pulled from the company site, and the firm released a statement saying it had fired him.