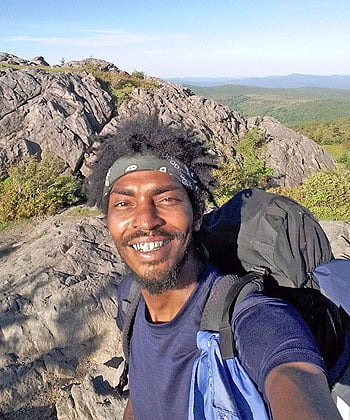 Appalachian Trail Thru-Hiker Daniel White Spreads Love and Light. 
Asheville native Daniel White is one of only a few African Americans who have thru-hiked the world-famous Appalachian Trail; in fact, during his six-month trek, he met only one other black hiker. But the camaraderie, friendliness, and unexpected kindnesses he encountered along the Trail elevated his spirit just as the hike itself brought him a memorable sense of peace.
And on Thursday, July 26, 2018, he will share his journey with a talk titled "Love and Light: The Blackalachian on the Appalachian Trail," during a public speaking engagement in Asheville. While the location of his appearance has not been confirmed at press time, more information will be available at www.EverybodysEnvironment.org.
Last year, White set off hiking the 2,200-mile trail to get a new perspective on life. Frustrated by his day-to-day grind in Charlotte, he looked for something new, fresh, and invigorating to experience.
"I was seeing so much negativity on social media—there is just so much of it, and you take too much of it in, being aware of it at all times," he recalls. "It was weighing me down and killing my spirit. So, I randomly put out on Facebook that I wanted to learn to survive in the wilderness, and my cousin said I should hike the Appalachian Trail."
Though he grew up in Asheville, and the trail was nearby all his life, nobody had introduced him to it. He had never even backpacked before.
"I hadn't slept in a tent until three days before I started," he says. "Once I got started, it was a learning experience. I was only planning to hike for a couple of months, but then I really got into it and didn't want to stop."
Most hikers tackle the Appalachian Trail in segments, 20 or 50 or 100 miles at a time, over a period of years. Thru-hikers are those who begin at one end and complete the entire 2,200 miles on one long trek from Springer Mountain, Georgia to Mt. Katahdin, Maine. White, who, traditionally, chose a trail nickname—The Blackalachian—chronicled his journey via his YouTube channel. His viewers, from all over the nation and world, galvanized him to keep trekking.
This summer, as he shares stories about his journey, he also hopes to inspire others to try something new—whether fishing, hiking, camping, biking, even woodworking.
"We have to show kids that it's okay to step outside the box, to be different and not get sucked into the group-think," he says. "There is so much outdoors that inspires creativity! Social media is a great tool, but it's being misused—it's becoming a way of living. We have to look for any way we can take children outdoors to ignite and excite them. I learned to love reading from comic books; you just have to start somewhere."
In July, White also plans to lead a few hikes and activities for youth groups in the Asheville area.
"The point is to get children to just enjoy what they are doing and have fun," he says. "I didn't see myself as being a role model, but I do have a unique story to tell. When I was growing up, I remember activities that we did at the community centers, and those memories have stuck with me till this day."
He recalls that the possibility of encounters with dangerous wildlife was one of the main concerns from his family, but to White, though there are bears, snakes, and other animals in the wilderness, "I don't think it's any more dangerous than walking out of your door every day. I think you're more likely to get hit by a car.
He does note, "With people, you run into some of the same things you face anywhere—sexism, racism, microaggressions—but I wouldn't let that stop me. Getting started can really be a challenge—having enough money for the gear and being able to take off work for six months—or running out of funds on the trail. And then there's the terrain. No matter how good a shape you're in to start, hiking the mountains and being on the trail day after day really toughens you."
"But there are lots of rewards, too," he adds. "The peace, that's the most important part. It's so peaceful! And you meet a lot of people on the trail that help each other out. Those unwarranted acts of kindness really restore your faith in humanity. On TV you just see division, division, division—but when you get out on the trail and see people showing you love, that's a real faith restorer. The experience opens you up, lets you meet people from all walks of life, make connections, and keep in touch. Completing something like this, you build momentum for yourself."
White is also forthright in addressing both access to trails and outdoor recreation, and interest in participating by the black community.
"It was a great hike and experience, but sometimes I felt like a novelty," he shares. "We really need more diversity out here. I only counted one other black hiker when I was on the trail, and in general it seems there are more black women hikers than men."
He wants to open up conversations about why that is, beginning with his own theory. "I think it goes back to slavery and stories passed down through the generations, about people who went into the woods and didn't come back out. I think it's a safety issue, a survival mechanism, and I wonder what other people think."
Now that he has become more engaged in outdoor recreation himself, Daniel White is eager to keep hiking. He is also looking forward to his next big adventure—biking the route of the Underground Railroad, from Alabama to Canada. That trip will also be part of his Asheville talk, along with a discussion of specific gear needed for long-form hiking and tips for getting outdoors for the first time.
White's speaking tour is sponsored by the three organizations that make up the Everybody's Environment coalition—the Southern Appalachian Highlands Conservancy (SAHC), Appalachian Trail Conservancy, and the Center for Diversity Education at UNC Asheville. For more information visit www.EverybodysEnvironment.org.
The Southern Appalachian Highlands Conservancy is located at 372 Merrimon Avenue in Asheville. Contact them by phone at (828) 253-0095, by email to sahc@appalachian.org, or visit Appalachian.org.