A mural created by artist Jenny Pickens celebrates Asheville's historically all-Black business district.
Pack Square Collective and Crawford Square Real Estate Advisors collectively decided to commission a mural on the east side of their parking complex, since the art installation by James Pearson on the corner of Biltmore and Eagle Street were met with favorable reviews.
"I was contacted in 2021 by Karen Wiener of the Pack Square Collective and Carmen Schreiber of Crawford Square Real Estate Advisors about creating a mural. They presented the idea of an Eagle," said Jenny. "Two drawings were created with the idea of vibrant colors resembling stained glass. This would be hung on the parking complex area at the intersection of Eagle and S. Market Street. I was commissioned to create four wood panels. My friend Ali Rivera spoke to what the Eagle and this relative location means to her. Ali Rivera is a relative of James Vester Miller, a once prominent African American construction builder, contractor, and master brickmason in Asheville and western North Carolina," said Jenny.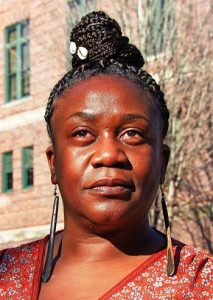 Ali Rivera went on to say, "Eagles are unique to North America, making them 'our' eagle. They are strong, independent and they are survivors. They symbolize strength, determination, and the freedom of our country."
"This is a perfect analogy of Eagle Street; in an area that stood as a proud representation of so many Black owned and thriving businesses and a symbol of pride for local African American people. It was proudly known as "The Block."
As Jenny reminisced and became overwhelmed by her thoughts, she concluded, "Let this Eagle be a reminder of the hard work our ancestors and African American business leader started. As a native Ashevillian, this was one of the highest honors and a reminder that our local African American legacy will always be remembered," mused Jenny. "I love what art can do for the soul and the community; also the subliminal messages that art creates. Let this be inspiring for many generations to come. I will continue to create, inspire, and change," concluded Jenny.
The mural adorns the parking complex at the corner of Eagle and S. Market Street.