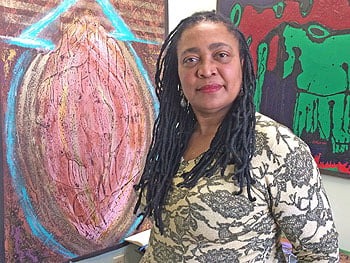 Cleaster Cotton is exhibiting for the first time in Blue Spiral 1 alongside other Southeastern artists.
Well-known in Asheville for her contributions to art, writing, community projects, and education, Cotton will reflect on her journey as a black artist in the South at 6 p.m. on Friday, February 16, 2018.
Cotton calls her style "contemporary primitive," which means, she says, that she's living in modern times, but the techniques she uses are coming from ancient and primal sources.
There's a balance of old and new, past and present. "I've just introduced what I call 'millennial tech art,' where I use texting abbreviations," Cotton says. Phrases like "OMG" and "BFF," in layers of texture and color, rise from the canvas.
Blue Spiral is located at 38 Biltmore Avenue in Asheville. Call (828) 251-0202 or visit bluespiral1.com for details.