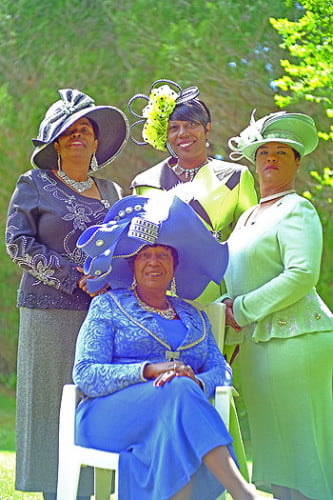 By Johnnie Grant –
Meet Sandra Suber of Ianodell's Hat Shop.
"I love hats," says Mrs. Sandra Suber, "and I've always pictured myself and other women dressed and adorned with a beautiful hat!"
The Henderson County native, who has enjoyed careers with General Electric and as music minister at two Fletcher churches, thoroughly enjoys her third job as a purveyor of fine, fashionable hats to the women of her extended community. Sandra has owned Ianodell's Hat Shop in Fletcher since 1995.
Sandra grew up as a member of Greater New Zion Baptist Church, where she later served 11 years as Minister of Music; after marrying the Rev. Odell Suber, she took on the same role at Pleasant Hill Baptist Church, where he was pastor, for another 29 years, (both are now retired). There, her visibility as both music minister and First Lady ensured that her taste in hats would be noticed.
Sandra took a moment to recall some of her fondest memories of childhood:
"My childhood was very well-rounded. I had a normal childhood growing up playing outside with family and friends," she says. "However, when Sunday morning rolled around, you would always find my family in church. My mother sang in the church choir, and I knew that eventually my turn at singing on the choir would come."
Her opportunity finally arrived when she and her cousin Josie became singers. "I played the piano, and Josie sang the song(s). We would even sang songs that we made up," mused Sandra. "We had a wonderful time!"
Sandra also remembers when the women would parade their fashionable hats to church. "It was such a colorful sight to see," she says. Her mother always dressed her and her two sisters in the latest trend, and as a result she has maintained a lifelong love for fashionable clothing and fancy millinery.
The wearing of extravagant hats is an age-old tradition in African American communities, from the Deep South of Alabama and Mississippi all the way up to North Carolina and Virginia, (as well as in the northern cities of the Great Migration, such as Philadelphia, New York, Chicago, and Detroit). Much of this history is documented in Crowns, a coffee-table book (Knopf Doubleday, 2000) by Michael Cunningham and Craig Mayberry that highlights a group of North Carolina women and their hats, and which was also adapted by Regina Taylor into a Broadway musical starring Alfré Woodard.
Through much of the 20th century, very few African American women would step out in their Sunday best without being fully accessorized with a fabulously milled hat. In the words of NC Central University Assoc. Professor of Marketing Deirdre Guion, wearing a glamorous, beautifully crafted hat expresses "hattitude." "There's a little more strut in your carriage when you wear a nice hat!"
Originally, hats served functional purposes and fulfilled practical needs, primarily protection from sun, wind, and rain. Over time, the idea of a mere head cover evolved, first into a symbol of authority, and then into an ever-more-important fashion accessory. As early as Egyptian times, crowns and headdresses served as indicators of rank and power. By the 18th century, the hat was an icon of wealth and held as a status symbol within the social rankings of many societies. In the 19th century, the popularity of exotically feathered hats led to the near-extinction of several bird species.
Today, rare feathers are no longer used by milliners, and no one can imagine England's Queen Elizabeth II gracing the public without one of her perfectly chosen hats, each designed to match her outfits in color and style. It is still considered a social faux pas if a woman appears at the Kentucky Derby without a hat, just as the parade of hats is a social highlight of Britain's Royal Ascot racecourse.
But the donning of the English bonnet, or "Bonnet du Jour," did not depend upon a woman's class; rather, the choice of headgear was enjoyed by everyone from milkmaids to maidens. And today, it is still a symbol of fashion and personal style, no matter where on society's spectrum a lady lives.
While following fashion trends as they evolve, Sandra Suber recognizes that there are constants in the business. Every spring brings Easter, Mother's Day, and the Kentucky Derby back-to-back. The famous Block House Steeplechase in Tryon also attracts many local hat enthusiasts to Ianodell's.
Sandra buys hats from major established companies as well as from independent designers. She particularly admires Travis Darby of Charlotte—and carries his creations. Moreover, to ensure that any two of her customers never suffer the embarrassment of wearing the same crown, she stocks only one of each hat she orders for the store.
When Sandra works with a first-time hat customer, she steers them away from anything "too bold." While she herself prefers larger, more elaborate hats that complement and complete an outfit—a beautiful suit, matching purse, and shoes—she understands that for new customers, it's important not "to turn them off" by offering anything too big or flamboyant.
One reason Sandra Suber has enjoyed operating Ianodell's Hat Shop—(the business is named for her two sons, Ian and Odell, Jr.), is her enjoyment of people. "Working with people and interacting with them is what I do best!" concluded Sandra.
For more than two decades, Sandra has also hosted a Fashion Show and Luncheon at Hendersonville's Chariot Restaurant. This year's event will take place on May 20, 2017, beginning at 12 noon. Tickets are $20 in advance, and $23 at the door. There will be entertainment, door prizes, and—what else—a fabulous selection of hats and other accessories.
On Thursday, June 22, 2017 Mrs. Sandra Suber will be a guest speaker at the third Annual Western Women's Business Center Conference, to be held at the U.S. Cellular Center, 87 Haywood Street in downtown Asheville. If your business or organization would like to participate in this event, or if you would like to purchase tickets, please contact Rosa Vieira at (828) 633-6065 or email [email protected].
Ianodell's Hat Store is located at 29 Spring Rock Road in Mills River and open by appointment only. Call (828) 776-4676.