The People, Places, and Events that Help Define Asheville
By Johnnie N. Grant –
In pre-Civil War North Carolina, and in Buncombe County, African slaves were considered property, and transactions involving them were recorded at the Buncombe County Register of Deeds office; alongside the deeds for farm animals, wagons, and tracts of land.
Prominent names were among the list of slave owners in Buncombe County including Woodfin, Patton, McDowell, Baird, Weaver, Vance, Merrimon, and Reynolds. Names that are familiar with people who use and enjoy the area's streets, parks, buildings, and monuments.
Many African American locals debated whether slavery ever existed in Buncombe County because of the region's geography and lack of plantation fields. But once the often excluded and invisible histories of the southern Appalachian mountains was unveiled, it was apparent that people of African American descent had contributed much to the physical and cultural environment of these highlands.
Those who were credited as being responsible for the creation of Buncombe County and its thriving tourist and trade center known as Asheville owe much to those people who were enslaved. The labor of African slaves not only helped to build Asheville, but also fed, clothed, and served those of privilege. Additionally, people of African heritage contributed greatly to the folkways of this southern Appalachian region, dispelling the myth of a homogenous society and culture.
In spite of humble beginnings, Africans in Buncombe County enjoyed the solace of close-knit communities (one of the attributes of segregation) and people who strived for economic empowerment and self-sufficiency. Being hostage to an oppressive and unjust governing system, Africans American in Buncombe County created and contributed to a thriving and flourishing environment vital to what we know today as Asheville, Buncombe County, North Carolina.
African Beginnings in Buncombe County
1538 — Spanish explorer Fernando de Soto passed through Buncombe County, crossing the French Broad River with more than 600 soldiers. Many were slaves in America representing northern Africa, Spain, Portugal, and Cuba.
Earliest African American History
1730 — Africans traveled through East Flat Rock and into Buncombe County with the Cherokee Indians as both slaves and free men.
1736-1784 — Samuel Davidson received a land grant after the Revolutionary War for a number of acres in the Bee Tree section of Swannanoa, NC. He was the first "non-indigenous" settler, married to a teenage woman who was enslaved. Tricked by a clinging cow bell, he was later murdered by hunters from the Cherokee Nation.
1777 — The first enslaved African people in Buncombe County were brought here by William Moore. They were known as Jim and Sue, and lived in the Hominy Valley area of Candler, NC.
1794 — The Buncombe County Court House located on Pack Square began to record slave deeds. The largest slave owner was Nicholas Woodfin, who owned 120 people living in 15 dwellings. The other large slave owners included the Patton, McDowell, Merrimon, Gudger, Baird, and Vance families.
Sarah Gudger (1816-1937) – Born in 1816, (although her age was subject to debate), Sarah Gudger was born into slavery in Old Fort, North Carolina, though she spent most of her life in Reems Creek. Excepts from her life history can be seen by viewing the "Forever Free" documentary.
1811 — James Patton, the second-largest slave owner in Buncombe County, opened the Eagle Hotel, staffed by slave labor.
1830-1835 — In 1830, an African slave known as "Sister Julia," and an African slave male, only known as "Ned," were given full membership in the First Baptist Church of Asheville. Women gave significant impetus to the formation of the church. Between 1845 and 1860, African women comprised 52% of the female membership of Asheville Baptist Church, later known as the First Baptist Church of Asheville.
James Vester Miller (1858-1940) — Born a slave, James Vester Miller came to Asheville as a young man with practically no formal training, but with a firm understanding of what he wanted to do in life, and how he would do it.
Miller worked for some of the best contractors in Asheville before starting his own company, Miller and Sons Construction Co., recognized as having the best brick masons in the city.
The Miller Construction Company specialized in building churches and commercial buildings, most of which are still in use today — and are in very good condition. Two that deserve special mention are the original U. S. Federal and Postal Building on Otis Street, and the Asheville Municipal Building, which currently houses the Asheville Police and Fire Departments.
Other notable buildings are Mt. Zion Missionary Baptist Church on Eagle Street, Hopkins Chapel AME Zion Church on College Place, and St. Matthias Episcopal Church on Dundee Street.
James Vester Miller served his community and its people well and was very active in civic and political affairs of the city of Asheville. He will always be remembered as one of Asheville's greatest leaders.
1848 — Slave sales were recorded in the Buncombe County Court House as property deeds. The earliest document shows a deed from the purchase of a 14-year-old girl for $500.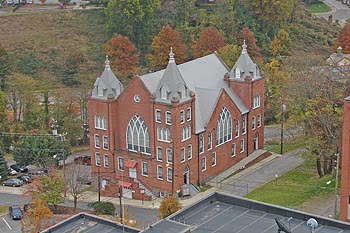 1880 — Mount Zion Missionary Baptist Church of Asheville, NC, considered the largest black church in the mountains, was founded.
1880s — George W. Vanderbilt builds the Biltmore Estate, displacing numerous old Shiloh residents off the property west of Hendersonville Road. Many skilled laborers hired to build the house remained in Asheville to work at the estate and live in the New Shiloh community east of Hendersonville Road.
1860 — The decennial census called the "slave schedules" puts Buncombe County's African American population at 1,103 as "Slave Inhabitants."
1865 — The Army of Liberation allows hundreds of enslaved people to escape WNC. Despite the end of the Civil War and the enactment of the Emancipation Proclamation, the United States government allowed slavery to exist until the 13th Amendment was ratified.
1887 — Isaac Dickson was appointed to Asheville's first school board.
1888 — Asheville's Colored Enterprise newspaper was founded by Thomas Leatherwood.
1889-1895 — Samuel Barnes, Landscaper, worked as a construction landscaper at the Biltmore House, and was the construction landscaper for the Biltmore Forest Country Club Golf Course.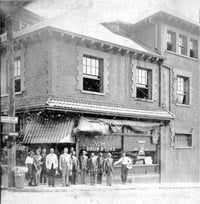 1891 — Edward Stephens established the YMI Cultural Center, the first cultural/community center for African Americans in the United States.
1891 — The Rev. Charles Dusenbury established Calvary Presbyterian Church on Circle Street in the East End community.
E. W. Pearson was a Buffalo Soldier until 1893. In 1913 E.W. Pearson establishes the Burton Street Community in West Asheville.
1823-1917 — Tempe Avery, midwife and nurse in the Asheville community. Before the Civil War, Avery was owned by Nicholas Woodfin, a state senator and the largest slave owner in Buncombe County.
Tempe was a famous nurse who delivered many babies in Asheville, both black and white. In return for her loyalty and service to his family, Nicholas Woodfin gave Tempe several lots in Montford, which she passed on to her descendants when she died in 1917.
1910 — Dr. William Green Torrence opened the first black hospital. The hospital, known as Torrence Hospital, was moved to 95 Hill Street in 1911.
1921 — Phyllis Wheatley YWCA opened for African American women on College Street.
1897 — B.J. Jackson opened the B.J. Jackson Vegetable Market in the lower level of the old City Hall building. He was the first black man to own a business on Pack Square.
1916 — The Colored Betterment League under the leadership of the Rev. Charles Dusenbury was established.
Education and Schools in the African American Community
Asheville's African American schools boasted some of the most educated scholars in the United States, hailing from institutions such as Columbia, Harvard, and Yale universities, with graduate and doctoral degrees. Buncombe County schools educated even more prominent African American scholars at eleven historically black colleges and universities, including the oldest in the South, Shaw University, founded in 1865 at the end of the Civil War.
1865-1910 — The establishment of African American Colleges and Universities in North Carolina. The other ten North Carolina HBCUs (historically black colleges and universities) are Barber-Scotia College; Bennett College; Elizabeth City State University; Fayetteville State University; Johnson C. Smith University; Livingstone University; North Carolina A & T State University; North Carolina Central University; St. Augustine University; Winston-Salem State University.
1865 — The Freedman's Chapel of newly freed slaves of St. Matthias also established Asheville's first school for black children.
1884 — Calvary Parochial School was established in Asheville, by Rev. Charles Bradford Dusenbury. The school grew until its enrollment of 150 pupils exceeded normal capacity. In addition to the ordinary academic school work, instructions was given in the Bible, the Shorter Catechism, and cooking and gardening. The tuition fee ranged from ten to fifteen cents per month and was collected when possible.
1887 — Allen Home School was built for African Americans by Mr. & Mrs. Pease, who retired to Asheville from New York City. According to lore, the lack of educational facilities for Negroes "became a burden on the hearts of the Peases," and at their expense, the school opened October 31, 1887, with an enrollment of three people. Very quickly enrollment climbed to 103, and by the close of his first year, more than 200 students were enrolled. Children attended during the day, older people at night. As the school grew, so did the need for additional buildings.
The women of the Woman's Home Missionary Society conceived of a home where girls could learn. Mrs. Marriage Allen, wife of an English Quaker philanthropist, visited the school while touring the South. She was so impressed by the work being done that she offered to give $1,000 if the Society would build the home at once. It was done, and on February 9, 1897, Allen Home was dedicated. It included a chapel, which, for 18 years served as the Methodist Church in the community (now Berry Temple Church).
During another period, an additional year of study — a Teacher Training Course — was offered. Later, when the state raised its requirement for teachers' certificates, extension courses were taught on campus.
1912-1932 — The Establishment of the region's Rosenwald Schools
Between 1912 and 1932, nearly 5,000 "Rosenwald Schools" for African children were established in the South. They were built in the eleven states of the Confederacy as well as Oklahoma, Missouri, Kentucky, and Maryland. Many of the schools were funded by Julius Rosenwald, president of Sears, Roebuck and Co., to enable black children to get an education during segregation allowed by the Plessy v. Ferguson "separate but equal" decision of 1896. The Rosenwald-funded schools educated three-fourths of the region's rural black schoolchildren.
The Rosenwald School in Mars Hill, NC was built in 1930 as the Long Ridge School. In 1959 it was renamed to honor Joseph Anderson, a Mars Hill slave who was taken to jail as collateral security for a Mars Hill College debt in the 1850s. Many current residents in the Long Ridge community trace their ancestry back to Anderson. For them and other alumni, the school represented not just education, but through it, a doorway to equality for their children. For the larger community of Mars Hill, NC it stands as a reminder of the struggle for equal rights.
Shiloh Rosenwald School was located in Asheville's Shiloh community. In February 1906 the Buncombe County School board purchased a one-acre lot near the Shiloh Church; it then bought a nearby schoolhouse and moved it to the new Shiloh community near Biltmore. After school attendance continually decreased because of the uninhabitable conditions of the school, the board agreed in 1927-28 to build a replacement school using Rosewald Funds.
That school, the only Rosenwald School in Buncombe County, was located on a four-acre site in Shiloh. By 1950, the school grew to 21,121 square feet, educating more than 871 students from Shiloh and area communities. By 1965, the Shiloh School enrollment was 245 students.
Brevard Rosenwald School, located on the western edge of Brevard, exemplified all the goals and challenges of education. The school cost $4,850.00 to build, toward which the African American community of Brevard contributed $1,195.00. There Ethel Kennedy Mills carried on the educational tradition passed on from her father, the legendary Rev. James T. Kennedy.
Schools in Asheville and the Local Region
1917 — Catholic Hill School for black students was destroyed by a fire in which seven students died.
1922 — Floyd B. McKissick, Sr., born in Asheville, NC, became the first African-American student to attend the University of North Carolina at Chapel Hill's Law School. In 1966 he became leader of CORE, the Congress of Racial Equality.
Floyd B. McKissick, Sr., a World War II veteran, went on to develop "Soul City" an entirely new community, built from the ground up and populated by people of all races. It was meant as an alternative to crowded urban slums and sterile suburbs, populated with houses, factories, and stores in one convenient location.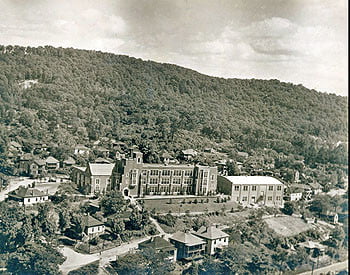 1922-1965 Stephens-Lee High School
In 1921 ground was broken for Stephens-Lee High School for African American students. The gym, built in 1940, is shown in a photo from approximately 1947. The "Castle on the Hill," home of the "Bears," was completed in 1922 and welcomed its first students in the spring of 1923.
Edward Stephens became the first principal of the segregated Stephens-Lee High School.
Stephens-Lee was named after George Henry Stephens, the first black principal in Asheville (Catholic Hill High School), and Mrs. Hester Lee, the wife of Walter Smith Lee, the second principle of Catholic Hill (destroyed by fire in 1917). Stephens-Lee attracted and educated many of the area's brightest students, including nationally known and Ivy-League-educated scholars.
The Class of 1924 was the first graduating class, and the Class of 1965 was the last. With no public notice, the school building was demolished in April, 1975, but after vocal and determined protests against the city, the gym was saved, and today serves as the Stephens-Lee Recreation Center.
1926 — Burton Street School was opened for African Americans.
On September 28, 1936, the Franciscan Sisters of St. Francis of Allegany opened the doors of St. Anthony of Padua School in Asheville. The school educated primarily African American students, and was attached to St. Anthony of Padua Catholic Church. The Franciscan sisters remained until 1969 when the school was closed. Tabernacle Missionary Baptist Church now occupies the building.
1937 — Asheland Avenue School was opened for black students.
1960-1965 — ASCORE (Asheville Student Committee on Racial Equality) works to help integrate the city of Asheville's public spaces and public schools.
Attorney James E. "Bo-Bo" Ferguson, II, of Asheville, NC, served as the first president of ASCORE, went to law school and worked with noted attorney Julius Chambers. Ferguson also served as the defense attorney for the Wilmington 10, and other landmark cases, including Swann v. Charlotte-Mecklenburg Board of Education. Ferguson is nationally recognized and honored as one of the country's "top-10" litigators.
1965-1966 — Asheville City Schools begin integrating, starting with the youngest students.
Advancements in Healthcare
1922 — Blue Ridge Hospital for "colored" people was established on 186 Fayetteville Street in the Burton Street West Asheville community. It was later move to Clingman Avenue, and closed in 1929. Dr. Mary Francis Shuford then established a clinic for African-Americans that, in 1943, grew into the Asheville Colored Hospital.
1931 — Lee Otus Miller, MD, an African American physician in Asheville, developed a method for treating high blood pressure.
1951 — Memorial Mission Hospital integrates; two African American doctors, Otis B. Michael, and John P. Holt, join Buncombe County Medical Society.
Otis B. Michael, Jr. was born in Asheville, NC. He was the son of Dr. Otis Bentley Michael, a physician, and Nannie Patterson Michael. He earned his medical degree at Meharry Medical College in Nashville, Tenn., and served in the Army. He practiced medicine in Asheville, and he was also a cardiologist.
Dr. Michael, a pilot, ran an air ambulance service to fly patients to get medical care. He also won a seat as a Republican on the Asheville City Council. "He was very disciplined, a fantastic individual and a giving person. He was full of life, a Renaissance kind of guy, and very smart. He had the quiet confidence of a man who had achieved his life goals."
In 1961, after twenty years of studying and teaching in other states, Dr. John Holt returned to Asheville to practice medicine, where his father began medical practice in 1918. He discusses factors that led to a large decline in the number of black doctors in North Carolina from the early '40s to the '70s.  Dr. John P. Holt subscribed to a future of slowly changing segregated conditions for black doctors and their patients in Asheville., and the need for a program of national health insurance to make health care accessible to the poor and outlines advantages of neighborhood health clinics.
County Government, the Block, and Urban Renewal
1978 — Otis B. Michael, MD, born in Asheville, NC, was elected to Asheville City Council.
1977 — Local historian Johnnie Baxter led a successful campaign to have the YMI building placed on the National Register of Historic Places.
1979-1987 — The Urban Renewal Era of the late 1960s, '70s, and '80s, aggressively began to dismantle African American communities of Asheville. The results of that disenfranchisement can still be seen and felt today.
1995 — Virgil Smith was named president and the first African American publisher of the Asheville Citizen Times.
1999 — Terry M. Bellamy, born in Asheville, NC, was first elected to the Asheville City Council in 1999 and won re-election in 2003. In November 2005, Bellamy became the youngest mayor in North Carolina at the age of 33, and the first African-American mayor of Asheville.